After a whirlwind summer, Hellcat Press is delighted to announce that our newest anthology, "Tales From the Public Domain," has been printed and is available for sale!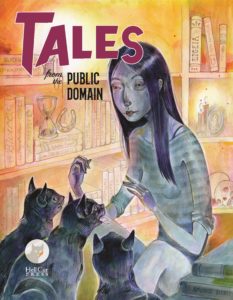 In "Tales From the Public Domain," we asked our contributors to pick their favorite public domain horror story and breathe demonic new life into it in comic book format. We were blown away by what our creative and talented contributors came up with! "Tales From the Public Domain" includes twisted takes on classics by H.P. Lovecraft, Edgar Allan Poe, Mary Shelley, W.F. Harvey, Robert E. Howard, Clemence Housman, Joaquim Maria Machado de Assis, Nikolai Gogol, Ambrose Bierce, Algernon Blackwood, Amelia B. Edwards, Kate Chopin, and Carlo Collodi, and features writers and artists from around the world!
Check out our store for more info!